About Sampa Das
You have to revere handloom, revel in its texture, retrieve the tradition, and then when you revive and recast—the end product is something
that becomes a work of art to preserve and pleasure in.
And that is what the journey of Sampa Das has been all about. Handloom, as an integral warp of the nationalist movement, has been part of her weft, born as she has been into a family of freedom fighters. A fascinating cameo is the wedding of her parents where her mother wore a white khaddar saree with a red border and her father was in kaddar, too. And the first ever saree that was gifted to her when she was just eleven—was spun in khaddar.
The fondness for weaves translated into collections from all parts of the world — Mexico, Guatemala, Turkey, Greece, Nagaland, Myanmar, to name just some of the countries from where she sourced exotic fabrics.
While still in her teens, she started working with weavers from Benaras,
and then went on to her love for Kanjeevarams.
Ultimately, her marriage with an Assamese ensured that she look no further than Assam to revive the muga silks of that region. One exquisite piece collected 45 years ago provided the inspiration to continue the tradition which you will see in her fabulous collection. What started as a personal collection developed into a passion and with her innate good taste and love of things traditional,she has been visiting the picturesque village of Sualkuchi, close to Guwahati to source and enourage weavers and add to the one-of-a-kind collectibles. The village is one of the world's largest weaving centres of Muga silk and often referred to as the Manchester of the East.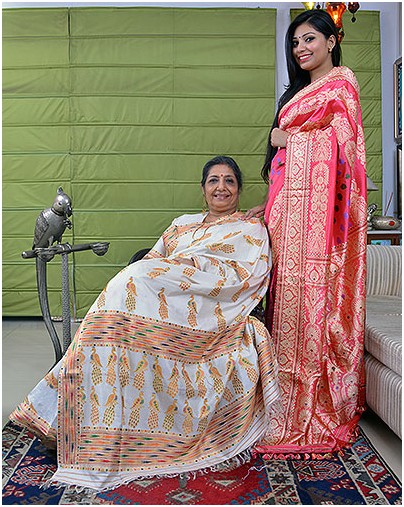 It has become her mission to revive the best of the past, often going to old families to seek out their heirlooms to replicate, visiting museums to cull out rare patterns and then spending time with weavers to rework these ancient designs.A continuous process of keeping on at the weavers to innovate, so that the tradition is kept alive!
The saris are never mass produced, each one taking several months to complete.For a unique experience, it is Sampa's collection that is a must for the discerning woman.
Muga, the golden silk, rich in texture and sheen, was worn at one time only by royalty. Muga silk is an Assamese asset, and it is nurtured and unravels itself to you through the fabulous traditional designs inspired by nature—trees, tendrils, flowers and leaves, peacocks and other birds and animals and geometric tribal motifs. The traditional colours like red, green and black provide a dramatic effect against the golden shade of the Muga fabric, although the weavers have been encouraged by Sampa to extend their colours to include yellows, greens, blue, being, silver, coppery pink, brown and wedding sarees have the additional embellishment of gold and silver thread work.
The saris are weighty, and obviously pricey, because of the wealth of the silk itself. Considering the fact that it takes two months, 1000 cocoons which yield 125 grammes of silk, and 725 to 1000 grammes are required for each saree, it is not difficult to figure out why the creations cost so much. This is why the possession of a muga sari is something that makes for a family heirloom, often a museum piece. Wearing them gives you that regal feel, too.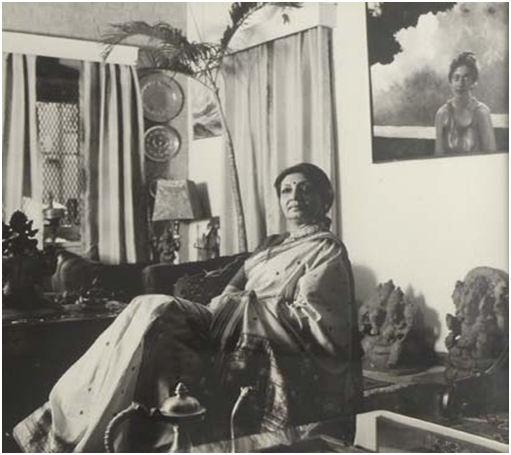 Today, Assam's Muga has been added to the list of products granted the Protection of geographical indication. This GI status gives it a new bearing for it is granted when a product is distinctively linked to a region or endemic to popular culture. Muga silk is hardy, endures for years, often outliving its owner, but its sheen and luster increase with every hand Wash. Traditionally, girls from Assam would weave their own trousseau, and were often chosen for their weaving skills. The bridal mekhla chador is a prized possession with most girls from Assam. A cross between a sarong and a lungi, the chador is worn with a special crisscross pleat down the front to give it the elegance required to show off the exquisite weaves, often three-dimensional, that typify Assamese creations. It is access to such revived tradition provided by Sampa that can give the impetus to weavers to continue to create new wonders from this golden thread, and assure the possessor of such sarees that they have something that is more than its weight in gold.